Best Boba Tea in Bakersfield, California
Written by a few bubble tea addicts, on May 10, 2022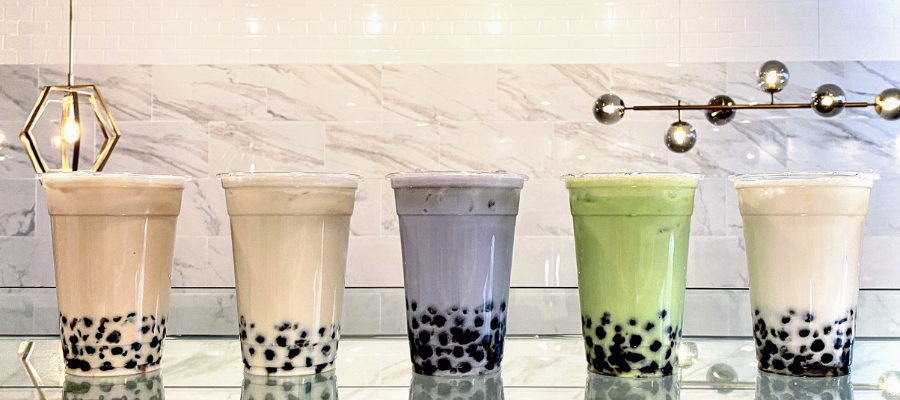 What do you look for in a boba shop? Is it the location? The vibe? We've got you covered! We compiled a list of the 9 best bubble tea shops in Bakersfield and ranked them by important criteria like drinks, toppings, design, etc.
---
1. Boba Tea Bar
7697 White Ln
If you're looking for Thai Tea, Boba Tea Bar is the place to be! The shop is designed like a japanese tea house with kimono-like curtains! Try some of their custom drinks like the John Lemon, Yin Yang, or Black Mamba.
---
2. Tbaar
3300 Buena Vista Rd #2
The red bricks on the wall give Tbaar an industrial New York City feel. They're known for their milk foam teas and macarons, so make to sure give both of those a try (the Sea Salt Milk Foam Tea hits different)
---
3. It's Boba Time
10500 Stockdale Hwy suite 200
Boba Time has the best tasting boba in Bakersfield! Their boba has the perfect combination of softness and chewiness. Try their popcorn chicken and macarons, both of which pair well with boba.
---
Best Delivery Option: Pearly
Delicious | Ready in 3 Minutes | Affordable
Are you spending a fortune on boba? What if you could easily make delicious boba tea at home? It would taste just as good as your favorite shop, and cost you less money. Introducing Pearly. Instant bubble tea kits that hit the spot when you're craving boba, ready in under 3 minutes. They also make for great gifts!
---
4. Boba Point
920 California Ave Ste C
Boba Point is known for its super-soft tapioca and for having plenty of customization options. It's also cute that they let you put fruits on the straws!
---
5. Presotea Bakersfield
1345 Allen Rd Ste 200
Presotea has unique twists on traditional boba flavors. Our favorite is the Brown Sugar Crème Brulee, which uses torched cream as a topping.
---
6. House of Wings & Boba Drinks
3541 Panama Ln #140
You'd think bubble tea and hot wings wouldn't go together, but House of Wings pulled it off. After some hot wings, cool your mouth off with a refreshing milk tea!
---
7. College Coffee and Donuts
2697 Mount Vernon Ave #C
Youthful vibe and filled with students. If you're craving sugar and in Northeast Bakersfield, this is the place to grab a donut and some boba.
---
8. Café Tori
5440 Stockdale Hwy
Café Tori is all about relaxation. They have lots of plants and mellow colors. It's a great place to unwind with some bubble tea after a long day.
---
9. Café Express / Louisiana Famous Fried Chicken
6023 Coffee Rd Suite B
Café Express brings an Asian twist to Louisiana Fried Chicken. Pairing it with a green tea boba is the best way to enjoy this unique eatery.