Best Boba Tea in Sunnyvale, California
Written by a few bubble tea addicts, on Jun 10, 2022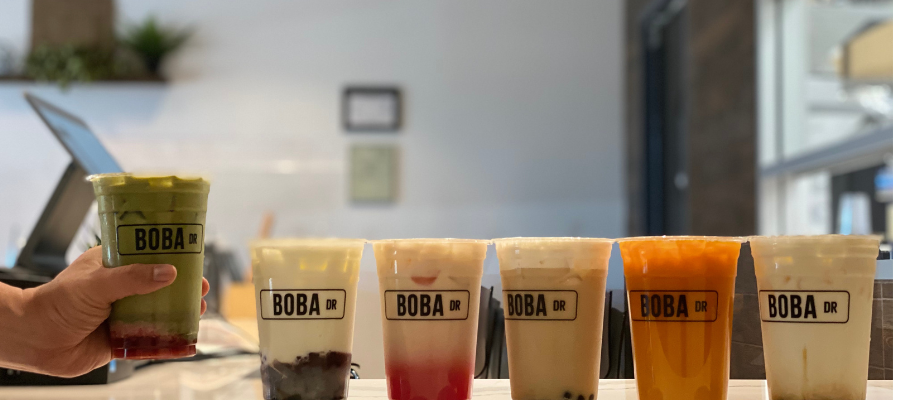 From boba gaming cafes to authentic Taiwanese street food and even futuristic tea shops, Sunnyvale's boba scene is one of the best in the state! That's why we've compiled a list of the best boba shops, ranking them by their teas, toppings, design, prices, and more. Enjoy!
1. Happy Lemon
520 Lawrence Expy #301
Are you ready for a cuteness overload? When you enter Happy Lemon, everything from the brightly-colored walls to the lemon-shaped plushies and statues make you feel like you're in an adorable lemon-themed ride at Disneyland! The lemon theme doesn't stop there, though. In addition to their Salted Cheese teas and milk teas, you can choose between Blended and Squeezed Lemon Teas.
---
2. Tastea Sunnyvale
114 E El Camino Real
For all the lactose-intolerant people reading, Tastea is for you. They make all their drinks with non-dairy creamer 😎. Try the Horchata Milk Tea, it's to die for. Seriously, whoever came up with the recipe needs a promotion.
3. Sunright Tea Studio
795 E El Camino Real
Watch out Disneyland, you've got some competition. Sunright Tea Studio's bright colors, super-friendly staff, and positive atmosphere make it the happiest place on earth for tea lovers.
---
---
4. Boba Drive
677 Tasman Dr
Entering Boba Drive is like entering a nice spa. With their calming, plant-filled design, you're able to sip on some boba, relax and let your problems fade away. They also sell beautiful cute plants that you can bring home 🌱
---
5. Calibear Cyber Café
1336 S Mary Ave
Tired of having to choose between going to get boba and gaming with friends? Lucky for you, Calibear Cyber Café is here to fix that. Meet up with your friends, rent a PC, and enjoy some boba while you game! They also have a wide selection of food ranging from nuggets to curry to dumplings. Everything you could possibly need to game without worry.
---
6. Gong Cha
1641 Hollenback Ave
Gong Cha's Asian heritage (they were founded in Taiwan and Gong Cha actually means Royal Tea) is shown in their creatively designed drinks. Try the Panda, which has both tapioca pearls and crunchy white pearls to represent the panda's colors.
---
7. BAMBU Desserts & Drinks
189 W Washington Ave
This shop is quirky with a capital Q! From the Vietnamese banners and decorations hanging from the ceiling to the green-colored waffles and animal-shaped macarons with googly eyes, this shop is not afraid to show off its personality, and we are here for it.
---
8. Chick & Tea
587 E El Camino Real
Delicious and authentic Taiwanese soul food. From street-fried favorites like basil popcorn chicken and golden taro balls to grilled soul food like short rib and corn, Chick & Tea is the perfect place to get a glimpse into the iconic Taiwanese street food markets.
---
9. Fantasia Coffe & Tea
10933 N Wolfe Rd
As you walk through the door at Fantasia, you are transported into another dimension. Here, tea is drunk out of cups that look like upside-down lightbulbs and there is an ominous purple fluorescent hue all over. There must be a lot of red bean lovers in this new world because there's the option to pair red bean boba with red bean mochi for the ultimate red bean experience.
---
10. Sharetea
568 El Camino Real Suite A
How did Sharetea become one of the most successful boba chains in California with dozens of stores across the state? By having great prices and providing something for everyone. Whether you love fruit teas, milk teas, or just plain old coffee, they've got something for you. Oh, and did we mention they even have a non-alcoholic mojito!?
---
11. Tea Link
415 N Mary Ave #108
Whether you like your boba to be sweet, salty, or savory, Tea Link has got you covered! With over 35 selections of milk and sea salt teas, every boba drinker is bound to find something that they like. Plus, each one of those drinks is $4 or less (medium size)!
---
12. Pekoe
939 W El Camino Real Suite 117
This futuristic boba shop is best visited at night because of its glow-in-the-dark seating and lounge aesthetic. They've also serve creatively named drinks like the Mario & Lui-ychee, the PomStar, and the I'm In Luv With The CoCo 😂