9 Best Make Your Own Boba Tea Kits
Written by a few bubble tea addicts, on Oct 09, 2022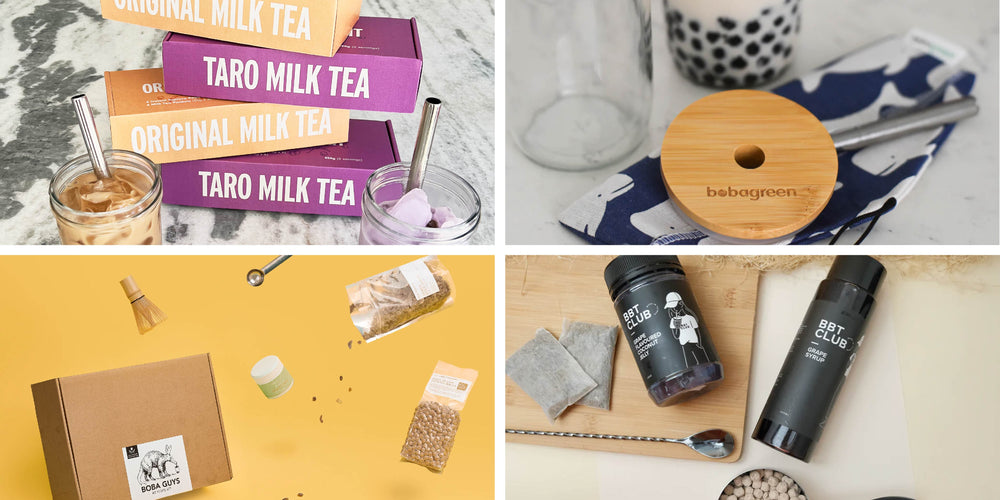 Summary: Our favorite boba tea kit was the Pearly DIY kit because of it's convenience. The runners-up were TEAliSe Organic and Tea Drops. Keep reading to find out why.
You're probably here because you don't always have a boba shop nearby, but need to get your boba fix. Not being able to get boba is nightmare and boba tea kits are the perfect solution. The only problem is there's so many new brands out there, and no way you want to try each one (shipping is expensive yo)!
So, where do you begin? Well, we also LOVE boba so we tested out 9 kits to decide which one is the best. We hope this makes your decision a little bit easier 😀
The best make-your-own boba tea kits
Pearly - Best Overall
Pearly's boba tea kits are delicious and affordable. Our kits are super easy to make which makes them perfect for beginners. Plus your boba is ready in under 3 minutes!
Our starter bundle makes 12 boba teas, including 6 taro and 6 original milk teas. Worried about toppings? Don't be - we'll send you 12 instant tapioca packets that warm up in 30 seconds. This kit also comes with a glass boba cup, a straw and easy-to-follow instructions.
Another great feature of Pearly is you can enjoy boba at a cheaper price than if you bought it at a store. The boba is tasty, using the same ingredients. How can you go wrong?!
Check Pearly starter bundle price
TEAliSe Organic - Best Organic Option
TEAliSe Organic's boba tea kits are perfect for boba drinkers who value organic drinks! They have boba tea kits with single flavor options, but the best option is their 4 Flavors Kit. It includes honeydew, peach, strawberry, and banana flavors. It also has 300g of black tapioca pearls, a reusable straw with a cleaner, and an instruction manual! The only downside to this boba tea kit is that the pearls take at least an hour to make, which means you can't exactly use this kit to indulge in a random boba craving.
Check Tealise 4 flavor kit price
Tea Drops - Best Gluten-Free Option
Tea drops boba tea kits are the best option for gluten-free boba drinkers! Plus, they're business is women-owned. Our suggested pick from their shop is the Tea Drops Deluxe kit.
The kit offers a total of 16 tea drops from 4 pre-selected varieties. These include chai spice, chocolate earl grey, thai tea, turmeric, and more! It also comes with 6 single-serve packets of creamer and a 2-ounce boba packet! But, you would have to plan your boba cravings ahead of time because the boba takes roughly 45 minutes to make, which is a bit of a time commitment.
Check Teadrops deluxe gift set price
Bobagreen - Best Eco-Friendly Option
Bobagreen believes your bubble tea addiction should be eco-friendly! The best boba tea kit option from Bobagreen is their DIY Classic Bubble Milk Tea Kit, which prepares 8 cups of boba tea. The kit comes with earl grey black loose leaf tea and jasmine green loose leaf tea, a packet of tapioca pearls, a boba straw, and a recipe and information booklet.
BBT Club - Best Option for Customization
Fun fact - BBT Club was invented by a team of Australian founders who came up with the idea while being locked down during the pandemic and craving boba! They played around with selling puzzles online, but settled with selling bubble tea instead 🤣
BBT Club is by far the best option for boba lovers looking to customize their boba tea kit. BBT Club's mix-and-match function allows you to personalize your boba order. You can choose from a ton of different flavors for the ultimate boba care package.
Their fruit tea flavors include mango, passionfruit, green apple, and lychee. For milk tea lovers, the mix-and-match flavors include taro, honeydew, strawberry, thai, coconut, chocolate, or original.
Check BBT Club mix and match price
J Way - Best Option for a Low Budget
You've probably seen J Way on Amazon or at your local Walmart. While it's a budget friendly option, their flavors don't taste as good as some of the other brands on this list. Their most popular kit prepares 6 drinks, comes with tapioca, and includes 6 straws. The flavor options in this kit are classic milk tea, taro milk tea, creme brulee caramel milk tea, and passion fruit pineapple fruit tea. Despite it not being the best tasting DIY boba tea, the kit can be great for a birthday party with young children if you're in a pinch.
Check J Way caramel boba kit price
The Boba Guys Kit - Best Option for Unique Flavors
Created by Boba Guys, The Boba Kit has a collection of unique flavors at affordable price points! Their flavors include 'Hojicha + Kuromitsu' and 'Matcha + Amber Rock Sugar'. Each kit is thoughtfully made with 10 servings of tapioca pearls, organic tea, a housemade sweetener, a metal reusable straw, a teaspoon, a bamboo whisk, and instructions to ensure you brew the perfect cup of boba! Check Boba Guys prices
Proximitea - Best Minimalistic Option
Proximitea's boba tea kits are pretty standard as far as flavor and price go. But what we love most about them is their minimalistic packaging design! It's cute but so simple! We recommend any of their 8-serving boba tea kits. These all come with your choice of black tea or jasmine green tea and tapioca!
Check Proximitea taro kit price
Flavor Purveyor - Best Vegan Option
Flavor Purveyor is perfect for our vegan readers! Although Flavor Purveyor describes their Royal Milk as 'nutty', it does not contain nuts or milk - only tea leaves!
At this time, they only carry one flavor, but we can't wait for them to launch more vegan flavor options!
The best make your own boba tea kits
Check out these fun and easy boba tea kits for fast, convenient, and delicious boba!
Pearly - Best overall Shop Now
TEAliSe Organic - Best Organic Option Shop Now
Tea Drops - Best Gluten-Free Option Shop Now
Bobagreen - Best Eco-Friendly Option Shop Now
BBT Club - Best Option for Customization Shop Now
J Way - Best Option for a Low Budget Shop Now
The Boba Kit - Best Option for Unique Flavors Shop Now
Proximitea - Best Minimalistic Option Shop Now
Flavor Purveyor - Best Vegan Option Shop Now