Cute Boba Shops: 9 Cutest Bubble Tea Shops In The World 🌎
Written by a few bubble tea addicts, on Apr 17, 2022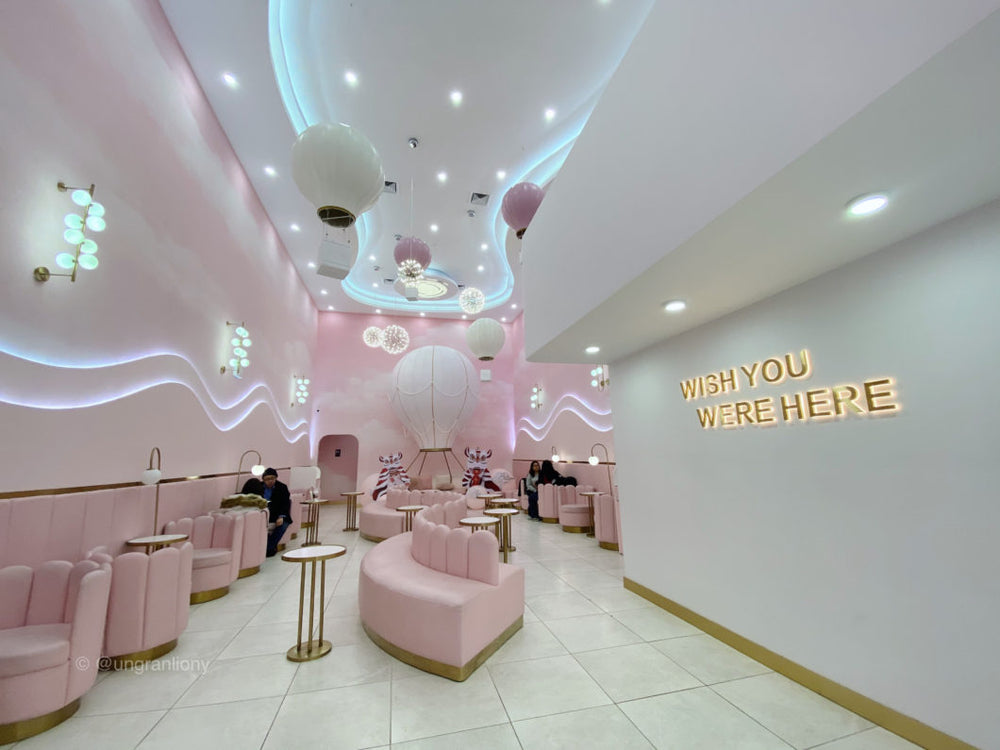 If you're a fan of bubble tea, you probably love trying new cute bubble tea shops in your city (or when you're traveling, too). We've created a list of the 11 cutest bubble tea shops around the world that will have you craving a tasty boba! 
1. Alfred's Tea Room - LA, USA
Any bubble tea lover knows that the tea leaves in your boba are SO important for a delicious taste. Not all loose-leaf tea is created equal, and ingredients really matter. Alfred's is actually a Tea Room, and specializes in selling a variety of tea flavors. The pink interior with chic artwork is super-cute, too!
2. M Tea - Queens, USA
This boba shop really takes the dining-in experience to another level with an absolutely stunning interior, including a hot-air balloon couch. Visit this bubble tea shop in Queen's, and don't forget to win a cute panda at the gift shop claw game on your way out!
3. Boba Cutea - Gilbert, USA
Sometimes, you need a little snack with your boba. But not all bubble tea shop food is created equal... Fortunately, shops like Boba Cutea exist! The bubble tea cups are super cute (with cat ear lids!), and you can also get a side order of snacks like Japanese Takoyaki.
4. YTea - Singapore
At this shop, the vibes are immaculate. Not only can you pick up a delicious boba, but you can sit under a wall of cute flowers while you're sipping on some tapioca pearls. 
Do You Love Drinking Bubble Tea?
We're giving away free DIY kits and other boba merch! Subscribe to our newsletter to learn more!
5. Truedan - Taipei, Taiwan
Tapioca balls are SO important to a delicious bubble tea - but not all shops have mastered the craft of making chewy tapioca pearls. Truedan has create a perfect tapioca pearl that's slightly bigger than the regular pearl, and bathed in brown sugar (that's right, bathed), for the ultimate taste. Truedan has a few locations across the world too. 
6. Sugar Daddy - Taipei, Taiwan
For some earthy and outdoorsy vibes, check out Sugar Daddy's in Taiwan. The bubble tea cart, combined with the plants and twinkle lights makes for a cozy bubble tea. 
7. Machi Machi - Taipei, Taiwan
This boba shop has the cutest takeout milk tea bottles, for when you need a little treat for later. The fresh strawberry latte with panna cotta is delicious, and a real twist on strawberry bubble tea. 
8. Booboo Bubble Tea - London, UK
Neon signs are a mainstay at boba shops these days - but this store does it well. Sometimes, we need a little reminder that 'dreams do come true'. 
9. Bubble Garden - Southtown, UK
This bubble tea shop is in a small sea-side town in the UK, which adds to the cuteness of the shop. Grab a boba and go for a stroll by the sea - the cutest bubble tea you can have!