How to make bubble tea at home
Written by a few bubble tea addicts, on Apr 14, 2022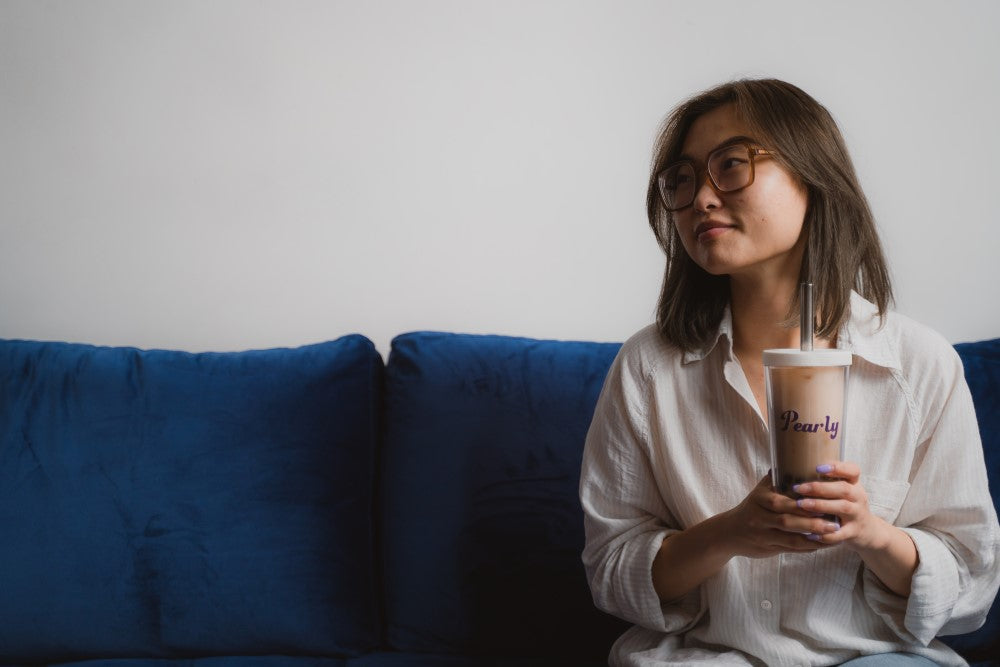 TLDR: Making bubble tea at home can take anywhere from 2 minutes to an hour and a half depending on the ingredients and flavor combination you desire. The quickest way to make a bubble tea at home is to use an instant DIY bubble tea kit.
Jump to:
Making bubble tea at home doesn't have to be a long and challenging process (but it can be, if you don't know what you're doing). You have many options for making bubble tea at home, with preparation taking anywhere from 3 minutes with a bubble tea kit, to 60+ minutes when you prepare it from scratch.
If you're looking for a super-quick way to make delicious bubble tea in 3 minutes, consider trying an instant bubble tea kit. This is the easiest way to make tasty bubble tea at home.
Otherwise, read on for how to make it from scratch!
Basics of bubble tea:
Bubble tea (or commonly referred to as boba tea) is a really simple drink.
It's just: Liquid base + toppings
That's it 😎
Although bubble tea has only been around since the '80s (when it was famously created in Taiwan), it's quickly taken over the world by storm. If you're from the US, you likely have at least a few bubble tea shops in your city (and if you don't, then check out our bubble tea kits).
What started as a simple drink with tea, tapioca, and ice, has now been re-invented hundreds of times, with all kinds of teas, fruits, and toppings. As you start your DIY journey, our guide below will help you learn to make the most common boba tea choices! 
Making the bubble tea liquid:
The liquid part of bubble tea has 3 core elements: tea, sweetener, and creamer. That's it! It's so simple, yet so delicious.
Tea selection:
The majority of bubble teas are made with black tea, or green tea (some people like oolong, too). If you really love another type of tea, that's cool too! These are just the most common tea leaves used around the world.
Sweetener:
If you're making this at home, just use whichever sweetener you like. If you're going to buy bubble tea, the most common sweeteners are fructose, brown sugar, or even just a basic simple syrup. We've heard honey is delicious in a bubble tea, too!
If fruit-flavored bubble teas are more your preference, this is where you would add some sort of fruit flavoring! Whether it's a fruit powder (many shops use this), or actual fruit pulp, either option will have you sipping on top-notch boba at home.
Creamer:
This is the part of the bubble tea that adds an extra level of silkiness - your dairy of choice. Many bubble tea shops simply use non-dairy creamer to add some smoothness to milk teas. If you prefer a fruit-tea or green-tea base, you might want to skip on the creamer (that's usually the go-to, especially for bubble tea fans with dairy intolerances).
Instructions:
This part is easy: steep your tea, mix in your sweetener and creamer, and pour over ice! Of course, each type of bubble tea will have a unique recipe, but these are the basics!
Now, you're ready to learn about the greatest invention since sliced bread: boba.
Making bubble tea toppings:
Source: SheCodes.io
There are plenty of of topping options to choose from! Many bubble tea lowers even mix multiple toppings in one drink.
Tapioca pearls (a.k.a boba)
This is the original bubble tea topping, and what the 'bubble' in 'bubble tea' refers to! Tapioca pearls are made from tapioca starch, which is extracted from the cassava root plant.
How to make in 60 minutes in a pot
Buy a pack of dry uncooked tapioca balls (looks like this). To cook the tapioca, we suggest following the 30 & 30 cooking method which can be found here. You will essentially have to get your tapioca to a boil (30 seconds), let it sit on medium heat for 30 minutes, then turn off the heat and cover your pot, let sit for 30 minutes.
Once your boba balls have reached a level of chewiness you like, strain the tapioca, and mix in brown sugar or syrup to add your desired level of sweetness! The longer you let the tapioca sit in the liquid, the softer it will become. If the tapioca is hard in the center, you may need to keep your pot on the stove for 5-10 minutes longer next time.
Alternatively, you could also use an instant pot to accelerate the cooking time.   
How to make in 3 minutes
Try one of our DIY boba kits, that comes with instant tapioca. Just microwave the pre-cooked tapioca for 30 seconds, and you'll have perfectly chewy pearls!
---
Jelly
Jellies come in all types of flavors and colors - our favorites are grass jelly and coconut jelly!
How to make in 3 hours
Heat jelly powder, sugar, and water in a sauce pan, and let the mixture cool in the fridge for 2 hours.
How to make in 1 minute
It's as easy as buying pre-made jellies at your local supermarket or online! They typically come jarred, and taste just as good as the freshly made variety.
---
Red beans
Red bean is another great add-on (although the community can be quite divided on this one!) This topping is usually sweet, and typically just combines red bean paste with a sweetener.
How to make in 30 minutes
Boil red beans for 30-40 minutes, drain, and pulse in a food processer with sweetener until it's a smooth paste.
How to make in 1 minute
Buy pre-made red bean paste! Bonus points if it's already sweetened.
---
Other toppings
The bubble tea topping list is seemingly endless. From egg pudding to popping boba, the list goes on. We're always searching for new and delicious topping ideas to add to our bubble tea!
---
Combining the liquid and the toppings: making bubble tea from scratch
Here are just a few examples of the most popular boba teas, and how to make them at home.
Original milk tea:
How to make in 60 minutes:
Think through which topping you want to include in your drink ahead so that it's ready at the same time as your liquid. Steep a black tea of your choice, and combine it with a your choice of sweetener and dairy product (5 minutes). Once the milk tea is ready, pour it over your ice and toppings! Mmm, so good!
How to make in 3 minutes
try a DIY bubble tea kit like Pearly.
Taro milk tea:
How to make in 60 minutes
Plan which topping you want to include ahead so that it's ready at the same time as your taro. To prepare the liquid, combine steeped black tea, taro flavor powder and a milk of choice (5 minutes). Once your liquid is ready, combine it with ice and your toppings, and enjoy!
How to make in 3 minutes
Try an instant bubble tea Taro kit here.
---
Matcha milk tea:
How to make in 60 minutes:
Plan your topping of choice for your drink so that it's ready with your Matcha. Once you're ready to start, follow your matcha packaging instructions, and combine with a sweetener and your milk of choice (10 minutes). Once it's ready, pour over ice and add your toppings!
How to make in 3 minutes
Try an instant bubble tea kit! 
Something to keep in mind
Making bubble tea at home is a fun activity, but can take a lot of time and preparation. Just don't forget the basics formula: liquid + topping = tasty bubble tea!
For a quick DIY bubble tea kit, check out Pearly! We make kits specifically for bubble tea lovers like you.