Tea Drops Boba vs Pearly Boba Tea Mix Review
Written by a few bubble tea addicts, on Jul 14, 2023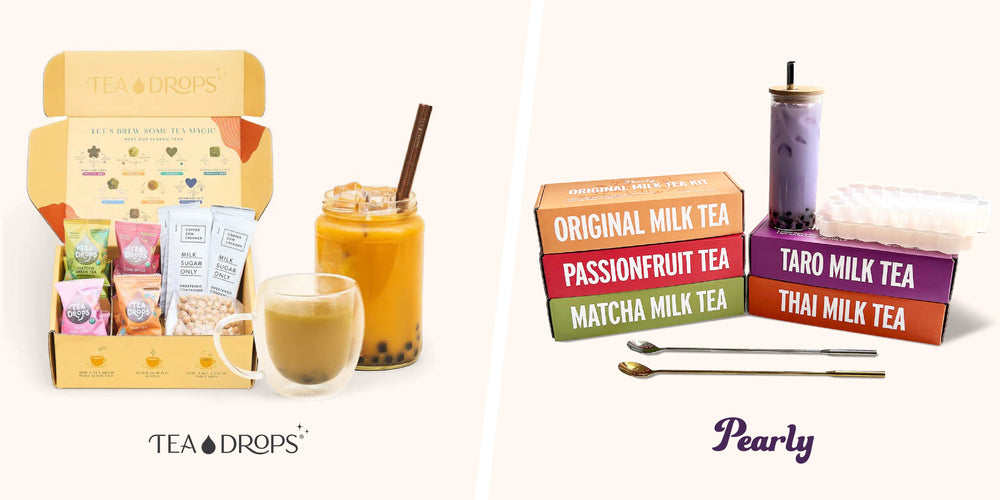 Summary: After testing both products, our preference is the Pearly bubble tea mix. Some reasons include flavor and convenience. Keep reading to learn other reasons why!
We're so excited to do this review because these are two of the hottest boba items on the market. They both have a lot going for them but it's time to decide which one is better!
We're going to be comparing the Tea Drops boba kit to the Pearly boba kit based on the qualities you would look for in your boba. There are a lot of boba kit options out there, but we're trying these brands so that you don't have to! Hope you enjoy learning about this popular Tea Drops alternative!
So, let's get into the review 😎
Flavor Experience
Pearly
Pearly has quite a few boba flavors to choose from (including Original Milk Tea, Matcha, Passionfruit, Thai Milk tea and more). Regardless of whether you like fruit or milk-based teas, they have something for you.
They are known for having formulated their product to taste almost identical to what you would get at a boba tea shop. So if you're looking for a traditional boba tea experience at home, Pearly is a great place to start!
Their drinks are all sweet (as with any boba tea) and come with instant tapioca packets that are ready in under 30 seconds. The tapioca is chewy, tasty, and quite honestly, addictingly good. If you've never tried making boba tea at home, you can't go wrong with this brand.
Tea Drops
Tea Drops offers matcha, chai, and thai tea in their single flavor kits. They also offer chai spice, chocolate earl grey, rose earl grey, turmeric, and unsweetened early grey in their deluxe boba kit. You can only get the deluxe flavors in the deluxe kit, so if you wanted a single flavor, you're limited to matcha, chai, and thai tea. Although their flavor options are unique, there aren't any fruit tea options.
We ordered and made a tea drops kit (you can see our pictures above) and thought it tasted good. The tea is quite sweet, so if that bothers you, you may need to use less than one drop per drink. Each of the flavors we ordered had a unique taste that we enjoyed. The only thing that we didn't enjoy was a little bit of a strange after taste in some of the flavors.
We do appreciate that Tea Drops uses all organic flavors, and no artificial sweeteners or additives in their kits.
Convenience
Boba kits are supposed to make your life easier, so convenience matters! Otherwise you would just grab a bubble tea from your local boba shop, right?
Pearly
With Pearly's boba kit, you can make boba in 3 minutes and the tapioca only takes 30 seconds in the microwave - talk about convenience! In the end, your boba is ready in 4 simple steps with Pearly's boba tea kit.
And if that's not easy enough, there is a QR code on the box that takes you to video instructions!
Tea Drops 
If you are just ordering tea drops for the tea (not boba), we found it was very convenient. It's ready in less than a few minutes. You just need to wait for your water to boil, and the tea drop mixes in rather quickly. 
If you are ordering the boba kit, they provide super easy-to-follow instructions in 5 steps. But what makes Tea Drops boba kit less convenient is that the tapioca takes 45 minutes to prepare.
Although the boba preparation is more time consuming in the Tea Drops boba kit, they have a great instructional video posted on their website that shows you how to perfectly prepare your boba at home!
Shipping and Price
The best thing about buying DIY boba tea kits is that they are less expensive than buying boba in store. Plus, the shipping costs are pretty reasonable too!
Pearly
The cost of Pearly's boba tea kits range from $24-$144 and they offer free shipping on orders over $50. Their kits include:
Big Boba Bundle: $144
Starter Bundle: $68
Single Flavor Kits: $24 ($4 per drink)
Tea Drops
The Tea Drops boba tea kits range from $20-$54 and they offer free shipping on orders over $45. Their kits include:
Bubble Tea Bundles: $53.95
Deluxe Boba Bubble Tea Kit: $50.00
Single Flavor Kits: $20-$22 ($4-$4.40 per drink)
Accessories
Let's be real, sometimes the best part about boba kits are the cute boba themed accessories. 😍
Pearly
Pearly offers lots of accessories for your boba and you can purchase these in the Big Boba Bundle or individually! ****
Reusable cup with straw
ice cube trays (2 pack)
spoons (2 pack)
reusable boba straws (2 pack)
bubble tea sticker pack
Tea Drops
Unlike Pearly, you can only buy the Tea Drops boba accessories separately from the boba kits themselves. Tea Drops offers three boba accessories:
Boba tumbler
Boba tea reusable straw
Boba tea pearl packet
Packaging
Just like accessories, packaging can also make your boba Instagram-worthy! When comparing the packaging of these boba kits, we were considering the durability and of course, how nice it looks 😄
Pearly (Tea Drops Alternative)
What we love about Pearly's packaging is the fun colors and simple design. The boxes are also super durable and the brand is easily recognizable! We also love that each kit has its own bright color that matches the color of the boba tea itself!
Tea Drops
Tea Drops also has a designated color for each boba tea flavor and their packaging is also aesthetically pleasing. The packaging for the single flavors comes in a small box with lots of detail and information on it. The boxes are also durable so they're sure to keep your boba secure! The packaging does make your boba tea appear a bit more sophisticated, which is perfect if you're looking for something elegant.
The bottom line
So, which one is best? After testing both products out, Pearly's boba tea kit checks off more boxes for us!
Flavor Experience: Pearly had the best flavor and topping experience. While tea drops tasted good, it was a little too sweet and had a bit of an aftertaste that we didn't love.
Convenience: Pearly's boba tea kit is much less time consuming to prepare.
Shipping and Price: This is a tie! Both Pearly and Tea Drops offer low shipping costs and the price of their boba is more affordable than store-bought boba.
Accessories: Pearly has more accessory options than Tea Drops and you can buy them together or separately.
Packaging: This is also a tie! Both brands have beautiful packaging and the boxes are durable.