Where to buy boba straws
Written by a few bubble tea addicts, on Apr 17, 2022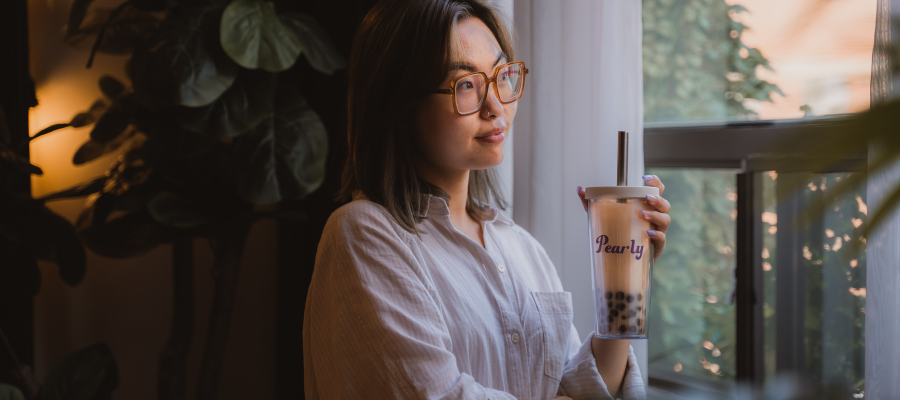 The best boba straws should be durable, easy to clean and feel good on your lips when you use them. They should also be wide enough to allow you to drink your favorite toppings (e.g. Tapioca).
In this guide, we'll cover where to buy boba straws. This will include a wide variety of straws with different materials, designs and more! If you have any other questions about buying boba straws, feel free contact our team, we would be happy to help you.
Where to buy boba straws
Pearly Boba Tea Straws
Metal | Reusable | Cleaner Included | Gift-Friendly Packaging
The team at Pearly are bubble tea experts. They sell instant bubble tea kits that help you make delicious boba at home in under 3 minutes. It's no surprise they also sell amazing reusable boba straws. The straw set includes two straws and a straw cleaner which will quickly become your best friend.
Shop Now - Pearly Boba Tea Straws
---
ALINK Silicone Boba Straws
Silicone | Reusable | Custom Length
Silicone straws are a good alternative to metal straws if you are having issues finding the right straw length. If you need a shorter straw, Silicone can be cut with strong scissors fairly easily. The ALINK straws come in a 6 pack with a straw cleaner and several different colors. 
Shop Now - ALINK Silicone Straws
---
Jungle Bamboo Straws
Bamboo | Reusable | Storage Bag | Travel Pouch
Responsibly sourced eco friendly drinking straws, hand crafted by artisans in Vietnam. Each set includes 6 straws with differing widths, 1 storage bag, 1 travel pouch, and a straw cleaner.  
Shop Now - Jungle Bamboo Straws
---
ALINK Glass Boba Straws
Glass | Reusable | Storage Pouch | Delicate
A more aesthetic option to drink your boba. ALINK offers a set of 4 glass straws that comes with 2 straw cleaners. While these straws pair up well with glass cups, be careful as they are delicate!
---
Sip Sip Angled Metal Straws
Metal | Reusable | Storage Pouch | Angled Tip
Like our first choice, these are Metal Straws. They come in a set of 5, with 2 straw cleaners and a small travel pouch. These straws also have an angled tip which is great for tearing the seal on store-bought boba.
---
Compostable Party Boba Straw Set
Paper | Biodegradable | Colorful | One-Time Use
Hosting a party soon? This 100-pack set of straws is perfect for entertaining with boba. Your guests will love the variety of colors and the fact that they are compostable! Don't forget to invite us 😉
Shop Now - Party Boba Straw Set
---
How to pick the right boba straws
While looking to buy bubble tea straws, it's important to consider a few factors: material, length, difficulty to clean, reusability, shape and the setting. We'll cover off all these below:
Material
Bubble tea straws are generally made with plastic, paper, bamboo, silicone, metal and glass. Each material has a unique texture which can alter your experience as you drink your boba. Paper, bamboo and silicone straws all have a noticeable distinct texture. Meanwhile the texture on plastic, metal and glass straws is less noticeable.
Depending on which material you choose, your environmental footprint will be different. Bamboo straws will be the most environmentally friendly option as they are both reusable and compostable, while plastic straws will be the least environmentally friendly. Options like Metal and Glass are also good as they can be reused for years before you dispose of them.
Length
The ideal length of your boba straw will depend on what cup you have your boba in. If you drink from many cups, you should seek out a set of straws that comes in varying lengths. If you aren't quite sure what length is right, consider purchasing a silicone straw set. These are great as you can cut the straws down to your desired length.
Most boba straw companies sell a longer straw as bubble tea drinkers tend to enjoy the drink in taller cups. If you have tall cups laying around your house, use those for your boba to avoid the hassle of finding shorter straws.
Difficulty to clean
When purchasing reusable boba straws, be sure to consider how hard it will be to clean them. Most boba straws come with straw cleaners which make the job much easier. Materials like glass and metal will be simpler to clean than silicone and bamboo due to the nature of these materials. To avoid long cleaning sessions, try rinsing the straw and use a straw cleaner shortly after you finish your drink.
Reusability
Plastic and paper straws are one-time use options. Meanwhile glass, bamboo and silicone straws can be used many times over. 
Shape
Traditional plastic boba straws at bubble tea shops come with sharp edges. This makes it easier to pop the seal on the drink. When buying straws for home use, it's better to buy a straw with a flat edge. It's both safer and and more aesthetically pleasing.

Setting
You should consider your audience for your boba straws. If you have children, it may be safer to buy paper, bamboo or silicone straws. If you are hosting an event, you'll want to use one-time use straws. Otherwise, steer towards metal and glass straws. They are environmentally friendly, have a good neutral texture, are easy to clean and look nice.