Where to buy brown sugar boba ice cream
Written by a few bubble tea addicts, on Aug 20, 2022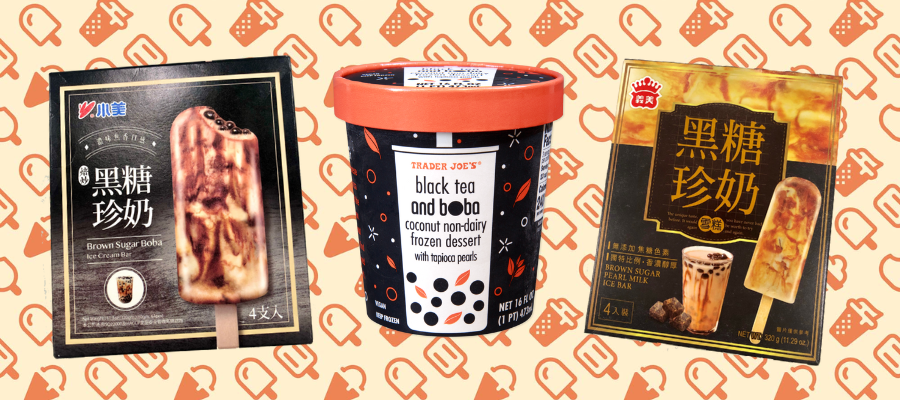 Quick Summary: Brown sugar boba ice cream is a popular treat that you can buy from local stores and ice cream parlors. You can even make it yourself!
After seeing WAY too many instagram posts about the brown sugar boba ice cream at Costco, our team felt it was necessary to make this guide. Some people (including the Pearly editorial team) don't have a nearby Costco and want to give this delicious-looking desert a try. 
We scraped the internet to find every possible way to buy or make brown sugar boba ice cream and put it together in the guide below. Enjoy 🧋
Before we start, a boba tea refresher:
If you've had boba tea before, you can skip forward to the next section of the guide! If not, girl are you in a for a treat! 
Boba tea is a delicious drink made by combining tea with milk or fruit juice, and adding toppings. One of the most popular toppings is, you guess it... boba. Boba is a chewy and mostly tasteless topping that's made using tapioca starch. Some people also call boba 'tapioca' or 'boba balls'. If you'd like to learn more, we wrote a whole guide to boba you can read here.
What forms does boba tea come in?
Until recently, boba tea was only consumed as a drink. You would go to a boba tea shop, order a drink, and that was that. But in the last few years there's been an explosion of forms of boba tea. This includes ice cream, mochi, chips, popcorn and much more. A lot of these haven't quite reached their potential yet (looking at you boba tea chips), but boba ice cream sure has!
What boba ice cream brands are out there?
Source: costcuisine.com
Shaomei Brown Sugar Boba
This is the most popular boba popsicle out there. You can find it at Costco or other local grocery stores. It has a brown sugar flavor, with chewy tapioca balls that taste just like the real thing.
Trader Joe's Boba Ice Cream
Trade Joe's carries two flavors of boba ice cream in pints. Black tea and boba, and Cold Brew Coffee and boba. While this isn't quite brown sugar flavored boba ice cream, it's still a delicious alternative.
Wall's Brown Sugar Boba Ice Cream
Typically found at Walmart, this is one of the more affordable options for boba tea ice cream. We haven't tried this one yet so we won't comment on the flavor 🤐.
Source: smelltheflours.blog
Humphry Hong Kong Milk Tea Ice Cream
You'll find this Hong Kong Milk Tea inspired treat at Wholefoods! While you're there, be sure to check out their mochi section. Sometimes they carry a boba tea flavored mochi as well.
Where Can I Buy Brown Sugar Boba Ice Cream?
There is no shortage of places to buy boba tea in the United States. As of 2019, the boba tea market hit an astounding $2.4 billion. You will never have to go far to get your fix of the drink. But given how new boba ice cream is, it's still hard to get your hands on this elusive treat. Here's a few places we found that might help you find it: 
Costco
If you own a Costco membership this is your best bet. While they might not carry the same brands year round at your nearby location, there's a high likelihood they have at least one brand in stock. Pro tip: You can always call them ahead of time and ask if they carry boba ice cream.
Chain Grocery Stores
With boba tea gaining popularity, it's no surprise chain stores are eager to stock new forms of the drink. We've seen boba ice cream sold at Trader Joe's, Walmart and Wholefoods so far. Keep in mind this is still a pretty new concept so a lot of these stores are testing out different brands to see what sticks.

Source: Trip Advisor, Scoop Ice Cream Parlour
Asian Grocery Stores and Supermarkets
While boba tea is originally from Taiwan, you can often find Chinese, Japanese, Korean and other Asian shops carrying brown sugar boba ice cream. Similar to chain grocery stores, this can be hit or miss.  
Local Ice Cream Parlors
Popular chain ice cream parlor Baskin Robins has jumped on the boba hype. Tapioca fans across the USA can pop into any one of Baskin Robins' 7,000+ locations and enjoy a Tiger Milk Bubble Tea. Streaks of syrup run down the inside of the cup (creating the eponymous tiger stripes) and black tea, milk, and brown sugar simmered tapioca combine to create a refreshing, satisfying drink. And of course, Baskin Robins had to add a scoop of indulgent vanilla ice cream to the mix!
Source: Food Network
Make Your Own Brown Sugar Boba Ice Cream
No luck with any of the options above? It's time to roll up your sleeves and pull out your apron.
We compiled a few simple steps for people who want to make their own brown sugar boba ice cream. We have even modeled our tips on the ever-popular Shaomei Brown Sugar Boba Bars!
Make the Tapioca Pearls
You will need:
3.5 ounces of tapioca starch
1.7 ounces of brown sugar
2.7 fl oz of water
Instructions
Boil 2 fl oz of water and add 1 ounce of brown sugar.
When the mixture begins to boil, turn the heat off.
Add half of the tapioca starch and mix the ingredients.
Slowly add the rest of the starch to the mixture while it is still hot.
Mix the ingredients until you get a sticky dough.
Let the mixture cool for a few minutes.
Sprinkle some flour on a flat surface and knead the dough. Roll it until it is an inch thick.
Cut the dough into thin strips and roll them into balls.
Cover the balls in tapioca starch so that they do not stick together.
Add the tapioca balls into boiling water and leave them for 8 minutes.
Turn the heat down low and let the tapioca continue to cook for another 5 to 10 minutes.
When the balls float to the surface, it is time to take them out. Add them to an ice bath for around 1 minute.
Use another pot to create the brown sugar coating. Boil 0.7 fl oz of water and 0.7 ounces of brown sugar for approximately 5 minutes.
When the mixture has reduced to a syrup, add the tapioca balls.
Let the mixture steep for 8 minutes, stirring now and then.
Let the mixture rest for 15 minutes before creating your ice cream pops.
Assemble Your Ice Cream Popsicles
Now that the most difficult part is done, you can assemble your ice cream! You can either make your own ice cream or use store-bought. For the purpose of this example, we will use assume that you have store-bought ice cream.
You will need:
Brown sugar syrup
A popsicle mold
Instructions:
Coat the popsicle mold with brown sugar syrup.
In a bowl, combine the ice cream with the tapioca balls that you prepared earlier.
Scoop the ice cream mixture into the popsicle molds. To make this stage easier, you can even scoop the mixture into a zip lock bag and cut the corner off.
Put the popsicle molds in the freezer and wait for a few hours.
Looking for an alternative to satisfy your craving? Try an instant boba tea kit!
We get it. You might not have access to boba ice cream nearby, but you're craving some boba tea. At Pearly, we ship DIY boba tea kits across the USA. Our kits contain everything you need to create tasty boba tea from the comfort of your home. You can even use the tapioca balls in the kit to experiment with your own (maybe ice cream) creations!