Where to buy coconut jelly and lychee jelly for bubble tea at home
Written by a few bubble tea addicts, on Jun 06, 2022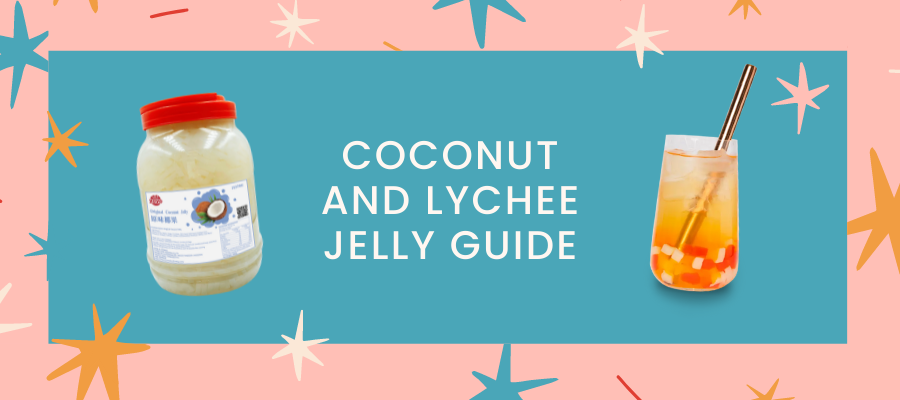 Let's be honest. You're here because you can't resist those delicious jellies at the bottom of your bubble tea. After your tea is long gone, you love the challenge of scooping up the remaining jellies. It's like a second snack.
You are also the type of person who gets really disappointed when the boba tea shop tells you 'sorry we're out of Coconut Jelly'. And at some point you decided, enough is enough. You wanted to have these sweet sweet jellies within your own control.
Now we know you're probably wondering 'how do we they know this?'. Well, because we are the same. And don't worry, we did the research, we got you. 
Here's a list of different places you can find Cocount Jelly and Lychee Jelly near you. If you still can't find what you are looking for by the end of the article, scroll to the top and hit the Contact button. Someone from our team will try to help! We'd love to hear from you.
Where to buy coconut jelly and lychee jelly
1. Amazon
One of the easiest places to buy lychee jelly in smaller quantities is amazon. They have many brands that sell different types of jelly. If you'd like to shop for coconut jelly, click here. If you'd like to shop for lychee jelly, click here. As you browse through amazon, be sure to read the reviews, best-before dates and ingredients. When it comes to food it's always important to buy a safe and healthy product!
2. Boba Tea Suppliers (Online)
A few of the major bubble tea shop suppliers offer jellies for at-home use. This is a great option if you are willing to buy in larger quantities (think Costco size). Here's a list of the major suppliers in the US:
Bossen:
Fanale:
Lollicup Store:
3. Asian Supermarkets or Grocery Stores
If you live in a big city, chances are there is an Asian supermarket near you. You'll want to visit the grocery section and look for the aisle that sells tea or sugary drinks. They should have a variety of bubble tea ingredients, including your jelly! If you don't have an Asian supermarket nearby, try visiting the international aisle of your local grocery stores.  
4. Etsy
There's a few sellers on the Etsy platform that make homemade coconut and lychee jelly (example below). This can be a more expensive option. You'll receive smaller portions with a higher cost. That said, it's always great to support small businesses if you can afford to do so.
5. Make it yourself
You came to this thread looking for places to buy coconut and lychee jelly. If you made it this far we're sorry to have let you down. In case you've run out of options, we encourage you to make bubble tea yourself. Recipes like this one take ~15 minutes to prepare and require you to cool the Jelly down before serving. The benefit of doing it yourself is you can be much more creative with your boba tea and get a better bang for your buck.
Thanks for reading!