10 Best Bubble Tea Kit Brands that ship in America
Written by a few bubble tea addicts, on Jul 06, 2023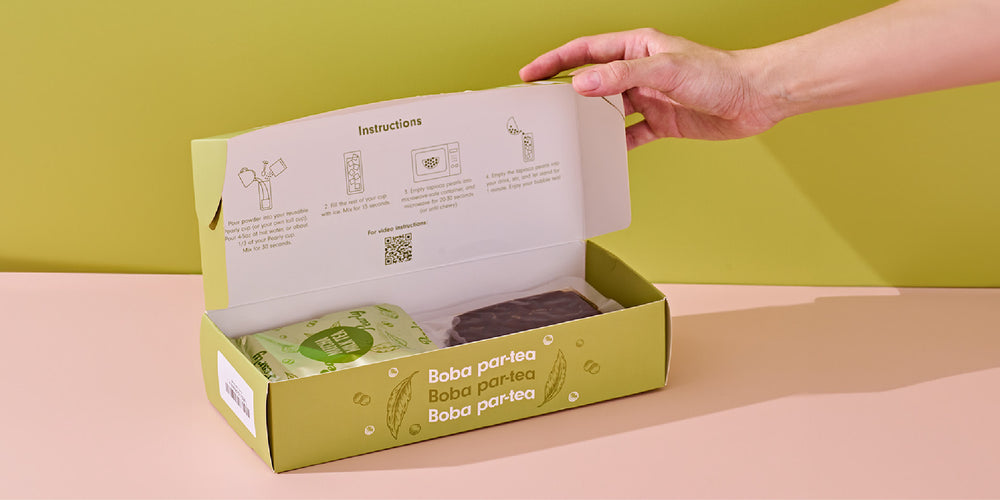 When that bubble tea craving strikes, a local shop may not always be available. That's what bubble tea kits were made for. They're the ultimate solution for people who don't want to compromise on taste or time.
If you haven't had a bubble tea kit before, you're in for a special treat. Imagine brewing up store-quality bubble tea in your home in minutes. It takes almost no effort and will save you a lot of money over time. Pretty awesome right?
Our team curated a list of the best DIY bubble tea kit brands that ship in the USA. Let's get into it 😍
Our favorite bubble tea kits that deliver in the USA
Kits usually come with everything that you need to create a tasty drink that is tailored to your tastebuds. A complete kit should include instructions, powders, and toppings. Some more premium kits will offer various types of toppings, accessories, stickers and more.
Editor's Pick: Pearly Bubble Tea Kit ⭐
If you've never had a bubble tea kit before, Pearly is the perfect start. The starter bundle includes two of their best-selling flavors (Original and Taro Milk Tea), and also comes with a cute bubble tea glass and reusable straw.
The drinks are ready in under three minutes, which means you'll be sipping on your favorite boba tea in no time! Their kits save you a ton of money going to bubble tea shops and are super easy to make. Click here to browse their products.
Boba Green Bubble Tea Kit
If you factor environmental concerns into your purchases, you will love Boba Green. This brand aims to make the boba sphere more eco-friendly and eco-conscious. The brains behind Boba Green have created plastic-free packaging. Even better, the accessories are reusable, and the reusable straw even comes with a keychain clip!
Of course, the flavors are delicious too! Boba Green's Classic Bubble Tea Milk Kit is the most popular option, but we think that the earl grey black tea and select jasmine green tea packages sound interesting as well. Shop their kits here.
FortuneHouse Bubble Tea Kit
This kit contains three bags of WuFuYuan tapioca pearls, three reusable stainless steel straws, three silicone tips, a cleaning brush, and a canvas bag. The reusable stainless steel straws are the stars of this kit. They come with silicone tips that ensure that you can sip comfortably.
It takes a little longer than usual to cook the boba balls in this bubble tea kit, but it gives you more control over tapioca chewiness. If you have 30 minutes to an hour to spare, this could be a fun activity for the family! Check their kits out here.
Buddha Boba Bubble Tea Kit
Buddha boba has lots of selection in their store. If you like to pick and choose lots of different flavors when you order, you'll enjoy their selection. Their flavors are simple and basic and remind us of the comforting feeling of going into a local bubble tea shop.
New Territories Bubble Tea Kit
People who love popping boba should consider New Territories. This brand has carved out a niche for itself amidst all the other boba brands because of its unique combination of traditional Hong Kong recipes with New York flavors.
The popping boba contains juice that is made with natural cane sugars. They are available in mango, lychee, and strawberry. Check out their store here.
Yumbucha Bubble Tea Kit
Do you want to convert that special someone in your life to a bubble tea drinker? Yumbucha is a fun, stylish brand that creates perfect bubble tea gift boxes. The boba kit comes with rose oolong, jasmine green, and classic black teabags that make 30 drinks. You can also expect tapioca pearls, a reusable cup, a reusable straw, and water-proof vinyl stickers.
Kassava Bubble Tea Kit
While a little pricier than the other options in our list, Kassava is committed to providing premium quality bubble tea. They source their product from the home of bubble tea, Taiwan, and ensure that every flavor pays homage to classic bubble tea flavors.
Kassava is unique in that it allows customers to add their two favorite tea blends to the Premium Boba Tea Kit. Check out their store here.
Locca Tea
If the term 'organic' features in your search for a bubble tea kit, look no further. Locca Tea creates aesthetically-pleasing bubble tea kits that contain organic loose-leaf teas. There are no powders being used here. Just keep in mind they'll take longer to prepare!
Their tapioca pearls are vegan and gluten-free. Even better, each box comes with precise, easy-to-follow recipe cards. You create perfect pearls every time! Click here to shop Locca.
J Way Bubble Tea Kit
If you are searching for a quick fix, J Way has got you covered. Everything about this bubble tea kit is made to be as hassle-free as possible. It promises a satisfying sip in just a minute!
Each kit comes with six packs filled with tapioca pearls and six packs filled with milk tea powder. For a unique experience, consider buying the J Way Authentic Fruity Colorful Tapioca Boba Kit.
Keep in mind their kits come with paper straws. Most of the other kits on this list have metal reusable straws - this might be a dealbreaker for you.
Editor's Pick: Pearly
Pearly bubble tea kits are made in the home of bubble tea, Taiwan. Their founders have sipped bubble tea all over the world, and taken inspiration from their travels to craft a delicious assortment of flavors. Making their kits are easy, fun and affordable. Best of all? They have the cutest assortment of cups and accessories.
Click here to shop Pearly's bubble tea kits!
Want to learn more?
To find more answers to your burning boba questions, visit our blog. We explore all the most popular questions about boba, including whether or not it is healthy, where you can find brown sugar boba ice cream, and the ultimate question, what is boba tea?