How to make boba
Written by a few bubble tea addicts, on Nov 16, 2022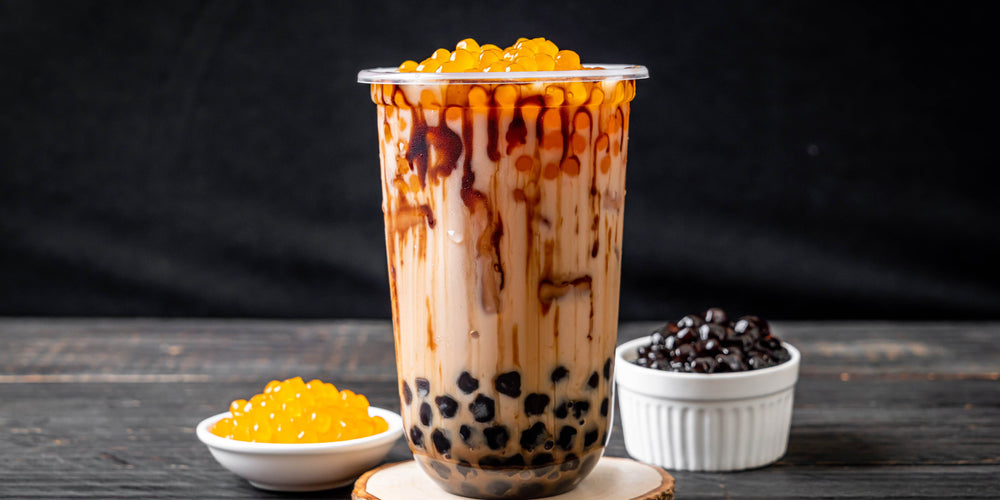 What you'll learn: You can make boba at home with 6 easy ingredients! It's easy and a lot of fun. Keep reading to find out how!
Making boba at home is much easier than you think. It's also way cheaper! You probably already have most of the ingredients. The only thing you may not have is tapioca starch for the pearls we'll be making.
Preparing delicious boba yourself is rewarding and you'll save lots of time not having to run to your local boba shop whenever you have a craving (we've all been there)!
Ingredients for Boba
Tea of choice - use black tea for a classic milk boba tea or green tea for a fruity boba tea
100ml boiled water
200ml milk (no milk needed if fruit tea)
50g brown sugar
A cup of ice
Instant tapioca pearls or tapioca pearls from scratch
Preparing the tapioca (boba) pearls
Instant tapioca pearls
You can make your pearls in 30 seconds with instant tapioca from Pearly! But, if you have extra time, you can prepare store-bought dry tapioca pearls. You can find these online or in most Asian grocery stores. We wrote an in-depth post on the whole process here.
Tapioca pearls from scratch
If you're feeling more adventurous, you can make tapioca pearls from scratch with three easy ingredients:
100g of tapioca starch
50g of brown sugar
80 ml of water
Make your own tapioca pearls following the steps below:
Boil 60ml of water and then add 30g of brown sugar.
Once the brown sugar is mixed in and boiling, turn the heat off and add half of the tapioca starch. Mix well.
While it's still hot, add the rest of the tapioca starch and mix again. A sticky dough should form.
Let the dough cool.
On a flat surface, knead the dough, and sprinkle some tapioca flour on top.
Roll out the dough to be roughly 1-1.5cm thick.
Cut the dough into 1.5cm by 1.5cm squares.
Roll the dough squares in your hand to create ball shapes. Make sure to cover the balls in some more tapioca starch to avoid sticking.
To cook the boba, boil 8 cups of water and then add the uncooked tapioca pearls. Cook for 6-8 minutes.
Turn the heat to low and cook for another 5-10 minutes. Remove the pearls from the water when they begin to float to the surface.
Add the boba to an ice bath for 1 minute.
In another pot, boil 20ml of water and 20g of brown sugar for 5 minutes or until it has a syrup-like consistency.
Place the tapioca pearls into the brown sugar syrup on low heat and allow this to set for 6-8 minutes. Stir occasionally.
Allow the mixture to rest 10-15 minutes before assembling your boba tea.
The tapioca recipe was inspired by this guide.
Preparing the Boba Tea
Now that we've covered the different techniques to make tapioca pearls, we can get into the boba tea recipe! Note: It can take up to 1 hour to prepare if you don't have instant tapioca on hand.
Prepare the tapioca pearls according to the instructions we shared above.
While your tapioca pearls are cooking, boil 100ml of water and steep the tea bags or tea leaves for 10-15 minutes.
Discard the tea bags or tea leaves and set the tea aside to cool.
Time to make the sugar syrup! Add 50g sugar to 60ml water in a saucepan over medium heat. Slowly stir and bring to a boil. Continue stirring until the sugar has fully dissolved, then turn off the heat and let the mixture cool down and thicken.
Add the cooked tapioca and stir until the pearls are coated in syrup.
Place the tapioca pearls in a drinking glass. If you want to be snazzy, put some of the mixture on the wall of the glass for a picture-worthy drink!
Pour in the brewed tea, add some ice, and stir! Top with 200ml of milk and enjoy with a boba straw!
The recipe above was inspired by this post.
Don't like cooking? There's another way!
You can speed up the whole process with Pearly's boba tea mix! It's super easy to make and takes only 3 minutes. This way when you have a boba craving, you won't have to go to a boba shop, or spend an hour cooking tapioca. It's easy and convenient, plus it saves you money! The best of both worlds. 💖